Search engine optimization involves a lot more than just keywords and XML tags. Effective SEO requires market research, competitive analysis, coding, evaluation of website analytics, content marketing, and converting visitors into customers or followers. Choosing the right tools is the key to accomplishing all the work needed for competent SEO. Fortunately, many of these tools are available for free: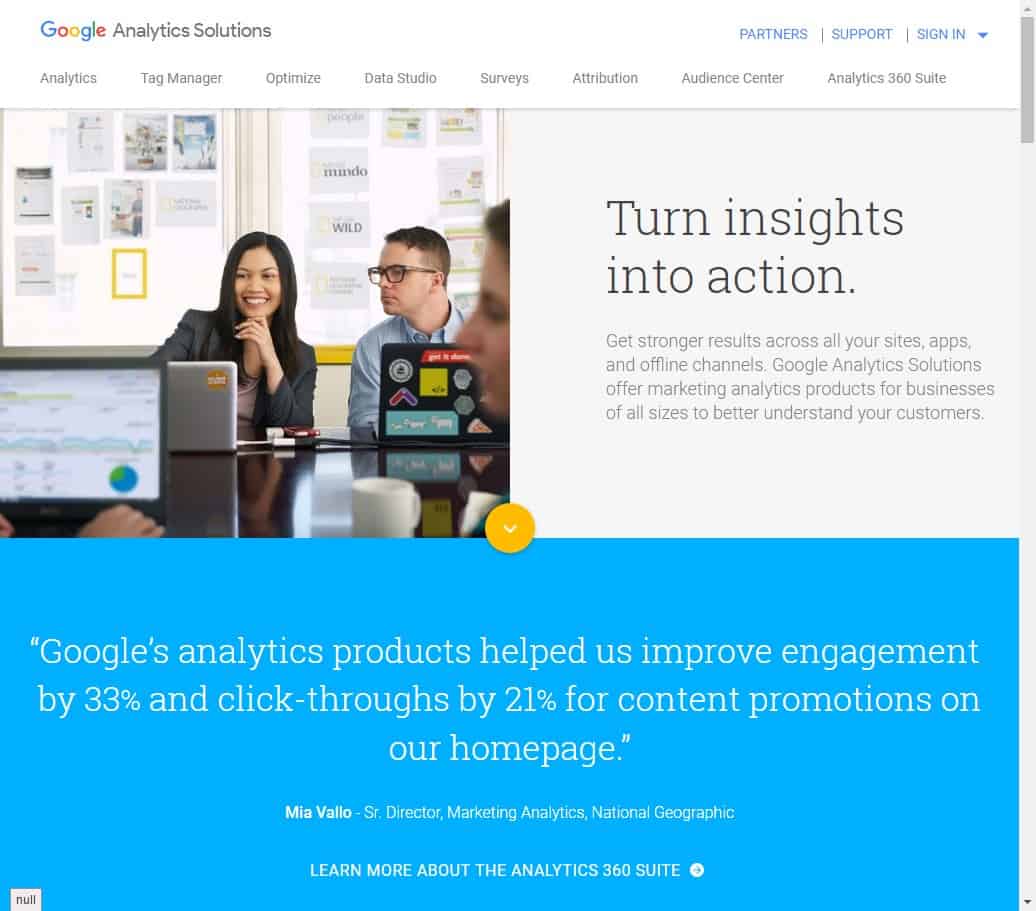 1. Google Analytics
This is the most powerful weapon in the arsenal of SEO professionals. All it takes is a few lines of code implemented into a website to unleash a treasure trove of insights about visitors, their actions on your website and their preferences.
One of the best features of this tool is the vast amount of learning and training resources available to beginners and advanced users alike. The free version of Google Analytics is powerful enough to be used by Fortune 500 companies; the premium version has, even more, features that can be used to fine-tune SEO, content and website layout strategies.
2. Google Search Console
Similar to Google Analytics, this tool is a must-have for website administrators, SEO practitioners, and internet marketers. Previously known as Webmaster Tools, the Search Console can be used to see how Google crawls and indexes a website so that improvements can be made.
One of the most powerful features of this tool includes the Disavow Link option to eliminate negative inbound URLs. Another useful function is the crawl report, which lists errors that should be corrected to improve page rank and search engine visibility.
3. Google Keyword Planner
Another fantastic free tool offered by Google; this one is actually part of the AdWords online advertising machine but it can be freely used to conduct keyword research and to analyze search trends.
It is important to remember that the estimates given for monthly search volume may not be accurate, particularly since Google intends to get users to launch AdWords campaigns. Nonetheless, this is a great tool to evaluate longtail keywords. Since the Keyword Planner is plugged into Google Search Insights, users can trust that their research will be current and congruent with ongoing search trends.
4. Moz Open Site Explorer
One of the most important aspects of modern SEO is to cultivate good backlinking practices, which can be greatly augmented with this tool by Moz, a very respected name in online marketing.
The ranking of websites by domain authority is very useful not only in terms of pursuing inbound links but also to get ideas on potential content and layout strategies. The Site Explorer determines the keywords that are actually working for websites based on visitors and content, thus allowing administrators to work on increasing the authority of their pages.
5. MozBar
This abbreviated version of Open Site Explorer provides a lot of functionality in a single browser bar. With a single click of the Moz button, the bar provides users with Domain and Page Authority metrics according to various search profiles that can be customized to account for the geolocation of the searchers.
With the MozBar, search profiles can also be changed with just a couple of clicks to learn more about the browsing and searching habits of audiences in other countries. With the premium version of this tool, users can also view the keyword difficulty for any search term or string, and they can also investigate the page optimization options related to specific keywords.
6. Yoast
Hands down, this is the best SEO plugin for WordPress websites. The best way to use Yoast is to install it at the same time the website is being created. By doing so, website administrators will be able to create the global metadata necessary to start publishing and optimizing.
Once new pages or posts are ready to be posted, the Yoast plugin examines the content and structure to issue SEO recommendations based on a traffic light scheme of red, yellow and green. Content creators who use Yoast regularly will notice themselves becoming more proficient in terms of creating blog posts, articles and new pages that are truly SEO-friendly.
7. SEMRush
This is the tool recommended by SEO professionals for advanced keyword research. The powerful features of SEMRush are intuitive and easy enough to use for the benefit of small business owners and website administrators who handle their own SEO.
For many users, SEMRush will feel as the only tool they will need for their online marketing needs. Users can access keyword intelligence for any website to learn how frequently those terms appear in search queries every month. SEMRush integrates with the SEOBook and SEOQuake products created by associate developers. The free version of this tool allows a few searches each day; with the premium version, users get more insight and freedom to explore more keywords.
Bonus: 8. Linkio
Anchor text has come into the cross hairs for Google over the past several years. Getting a good anchor text strategy is important for results, but it's not always possible to carve out time for the deep analysis (or have the expertise for it).
Linkio.com makes this exercise easier by automating much of the grunt work associated with a deep analysis.
This includes automated backlink imports, an anchor text categorization algorithm and suggesting the next anchors to use based on ideal percentages.
In the end, becoming proficient with SEO requires some research to learn the basics followed by constant practice that can be accomplished by regular use of the tools listed herein. Small business owners who master the use of these tools will be well on their way to staying ahead of their competitors.