When it comes to SEO, one must need to use a variety of Tools to speed up the data collection, research and processing works.
There are thousands of tools out there.
Some very good tools are paid and highly Expensive. So if you are a newbie or a Freelancer, they might be out of your Budget.
But there are again some few Good and FREE Tools, to get you Sorted.
Google PageSpeed Insights
https://developers.google.com/speed/pagespeed/insights/
Enter a URL, and this tool will test the loading time and performance for desktop and for mobile, plus identify opportunities to improve (and pat you on the back for what you're doing well). The mobile results also come with a user experience score, grading areas like tap targets and font sizes.
Agency Analytics
An Amazing Tool to know all the Technical SEO Issues, Keyword Research, Competitive Backlink Analysis and so much more.
A 360 degree tool to cover your every SEO Need.
Keywordtool.io
Enter a keyword, and the Keyword Tool provides a huge handful of long-tail keyword opportunities, organized alphabetically.
Google Analytics
https://www.google.com/analytics/
In addition to tracking pretty much every bit of traffic you could imagine on your website, Analytics also surfaces many keyword insights as to which terms people use to land on your pages.
SEOCRAWLER
One of the best SEO Tool Out there. Know all the Technical SEO Errors, Competitor Traffic Analysis, Keyword Research, Backlink Comparison and so much more.
A must use tool for SEO.
Google Keyword Planner
https://adwords.google.com/intl/en_in/home/tools/keyword-planner/
Enter a keyword or group of keywords into the tool, and Google will return all sorts of helpful stats to guide your keyword strategy: monthly search volume, competition, and even suggested terms you might not have considered.
Google Trends
https://trends.google.com/trends/?geo=US
A quick browse or search through Google Trends can show you the hockey-stick rise of potential terms and SEO opportunities for your content.
QuickSprout Website Analyzer
The QuickSprout tool does a comprehensive look at just about everything: SEO optimization, speed, tags, keywords, social, links, and even competitor comparisons.
Schema Creator
https://raventools.com/site-auditor/seo-guide/schema-structured-data
Create custom code so that your reviews, events, organizations, and people are displayed the way you want on search pages. Once you've created your schema code, copy and paste to your website, or try the free WordPress plugin for an even easier implementation.
SimilarWeb
Use this tool to compare traffic between two websites, a helpful tool for competitor research.
XML Sitemaps
Simply enter your site's URL and some optional parameters, and XML Sitemaps will create a sitemap that you can upload to Google Webmaster Tools.
SEO Site Checkup
Site Checkup runs through a fast audit of your site, checking for proper tags and surfacing any errors that might come up.
Find Broken Links
https://www.internetmarketingninjas.com/seo-tools/google-sitemap-generator/
The link report from Ninja Internet Marketers combs through your whole site and highlights a number of link insights, including the internal and external links that need fixing.
Moz toolbar
https://moz.com/products/pro/seo-toolbar
Know PA (Page Authority), DA (Domain Authority) of any website
Robots.txt Generator
http://www.yellowpipe.com/yis/tools/robots.txt/
Robots.txt files let the web robots know what to do with a website's pages. When a page is disallowed in robots.txt, that's instructions telling the robots to completely skip over those web pages. There are some exceptions in which case a robots.txt might be ignored, most notably malware robots that are looking for security issues.
Structured Data Testing Tool
https://search.google.com/structured-data/testing-tool
Structured data helps to provide context to the information on your page. This tool from Google uses live data to validate the structured data for any web page, or you can copy/paste code to test it.
Domain Hunter Plus
This magic extension for Chrome not only helps you find important broken links, but also tells you if the links point to an available domain.
Robots.txt Testing Tool
https://technicalseo.com/seo-tools/robots-txt/
Many robots.txt files contain hidden errors not easily visible to humans. Run your file through this tool and you never know what you'll discover.
Linkstant
This nifty analytics tool alerts you anytime someone links to your website. Great for outreach and intelligence gathering.
SEO Tools for Excel
http://nielsbosma.se/projects/seotools/
You don't need to be an Excel ninja to use Niels Bosma's SEO Tools for Excel. This plugin does so many things many SEOs won't work without it.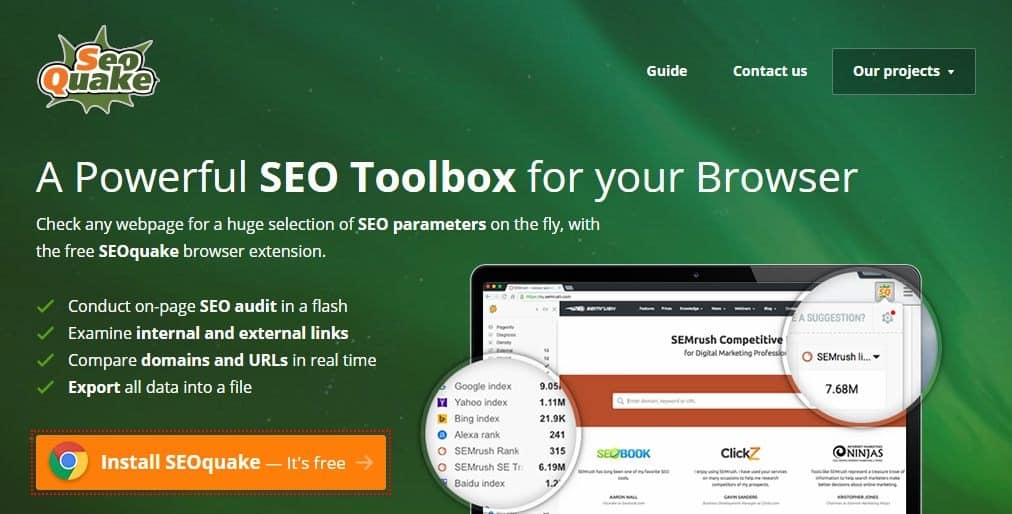 SEOQuake
More raw data than any other SEO toolbar out there.
Beam Us Up
SEO crawling software. Great free alternative to Screaming Frog. Integrates with Excel and Google Drive. Only available for Windows.
Yandex Metrica
100% free web analytics software. Includes heat maps, form analytics, session reply, and many other features you typically wouldn't see in a free tool.
Keyword Shitter
Generates hundreds and thousands of keyword suggestions from your seed keyword(s). You can also download all keyword suggestions to a .txt file in one click (no sign-up required).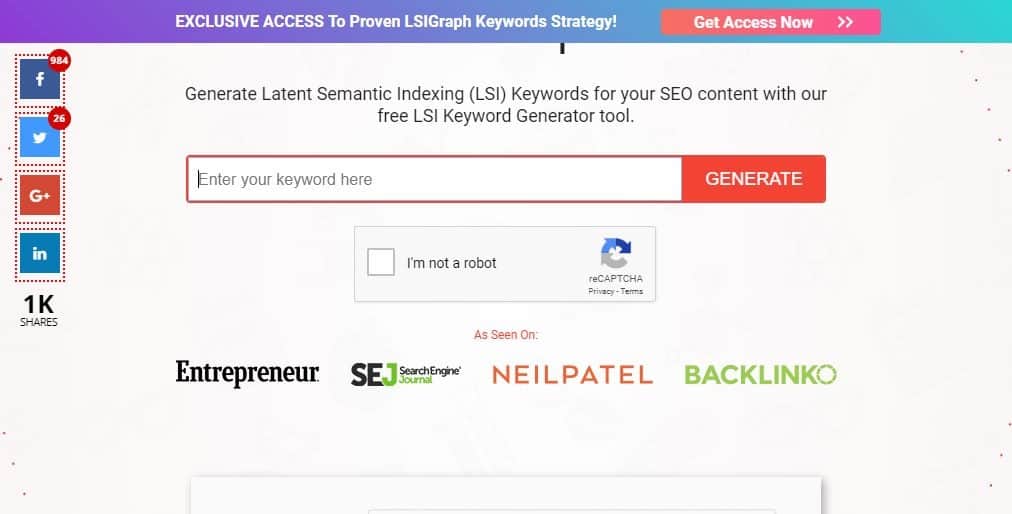 LSIgraph.com
Latent Semantic Indexing (LSI) keywords generator. Enter a seed keyword, and it'll generate a list of LSI keywords (i.e. keywords and topics semantically related to your seed keyword). TextOptimizer is another very similar tool that does roughly the same job.
CoSchedule's Headline Analyzer
https://coschedule.com/headline-analyzer
Shows how your title tag looks in the SERPs, plus gives you advice on how to improve it and get more clicks.
Check My Links extension
https://chrome.google.com/webstore/detail/check-my-links
The free Check My Links extension lets you check the integrity of the links you post (or plan to post) in your articles to ensure they work.
After you install the extension, open the page you want to check and click the Check My Links icon on the toolbar. The app will then start testing the links on the page and display the results in a box in the upper-right corner of the screen.
Broken links are highlighted in red, problematic links in yellow, and good links in green.
Outreach Lite
https://chrome.google.com/webstore/detail/ninja-outreach-lite/
This free Chrome extension works even without a NinjaOutreach Account, and returns a TON of data on each website such as first name, contact information, SEO and social data.
Advanced Meta Tags Generator
http://freetools.webmasterworld.com/tools/advanced-meta-tags-creator
Easily create meta tags for your web pages using HTML coding.
Analyze robots.txt
http://tools.seobook.com/robots-txt/analyzer/
Checks your robot.txt file for errors
Keyword Tool
http://tools.seobook.com/keyword-tools/seobook/
Keywords Research Tool
Anchor Text Over Optimization Tool
https://www.removeem.com/anchor-text-ratios/
Type in URL and get full report of potential bad SEO links
Bing Webmaster Tools
https://www.bing.com/toolbox/webmaster
Like Google Webmaster Tools but for Bing
BROWSEO
BROWSEO is a web app that allows you to view any webpage without distractions caused by styles. It also highlights parts of a page that are relevant for SEO.
Bulk HTTP Header Response Checker & Comparison Tool
http://www.tomanthony.co.uk/tools/bulk-http-header-compare/
Returns the HTTP response code for a list of URLs, and includes which URL they are redirected to
CloudFlare
CDN and a security service to provide your website with speed and safety.
Copyscape
Plagiarism checker and a duplicate-content checker
IIS SEO Toolkit
https://www.iis.net/downloads/microsoft/search-engine-optimization-toolkit
Analyze SEO aspects like your site's content, structure, and URLs for search engine spiders.
Kombinator
Makes combining/merging of keywords so much easier.
Meta Tag Analyzer
https://www.seocentro.com/tools/search-engines/metatag-analyzer.html
SEO tool to help webmasters analyze their web pages and Meta Tags
Meta Tags Extractor
http://www.webtoolhub.com/tn561365-meta-tags-extractor.aspx
Extracts meta tags from a website
Sunny Landing Pages
https://www.sunnylandingpages.com/
A Free Landing Page Builder that already take into consideration various Technical SEO Factors, so you don't need to deal with them later.
Hope you will find the above Tools useful.
Author Profile:-
Kartik Mundhra
Digital Marketing Professional, with expertise in SEO, SMO and PPC.
For any sort of Project or Consultation, connect with me here at kartikmundhra@gmail.com
Connect with me via LinkedIN